Roof Cleaning Indian River Estates FL
Top Rated Roof Cleaning Indian River Estates FL
We have over 300+ Reviews Between Google, Facebook, and NiceJob.
Get the best Roof Cleaning Indian River Estates FL
Are you looking for the right Roof Cleaning Indian River Estates FL professionals and service provider? If yes, then you have come to the right place for the best roof washing service in the area. There is no denying the fact that roofs are subject to regular wear and tear because of the elements of nature. Hence regular roof washing is as important as gutter cleaning, window cleaning, and other such cleaning services are concerned. However, we need to bear in mind that hiring the best of services is what separates the grain from the chaff as far as roof washing services are concerned. Castle Keeper's Maintenance Inc services Vero Beach, Florida Ridge, Fort Pierce, Hutchinson Island, Indian River Shores, Jensen Beach, and the surrounding areas in Florida.
Our 5 Star Roof Cleaning Services
Choose the right experienced Roof Cleaning Indian River Estates FL service
Our Roof Cleaning Indian River Estates FL benefits
We are in a position to offer the best possible Roof Cleaning Indian River Estates FL services that take care of your homes roof that might have become very dirty and streaky due to natural events and calamities. Our roof washing and pressure washing services ensure that hidden dust and debris, microorganisms like algae are also fully cleaned. Our customers are extremely happy with the services offered by us and in fact, many who have come to us for roof washing often opt-in for other pressure washing services as well. We are one of the few who offering specialized soft washing roof washing that takes care of each and every nook and corner of your roof. We plan the entire thing very professionals and take into account the overall size of the roof, the height at which it is located, the roofing material, and other such things. We inspect the roof closely and thoroughly and look for any possible attack from microorganisms include algae. We also take care of color inconsistencies, vibrancy, and other such things into account. We offer much more than just regular roof washing. You can trust us and depend on us for an all-around high-quality roof cleaning experience.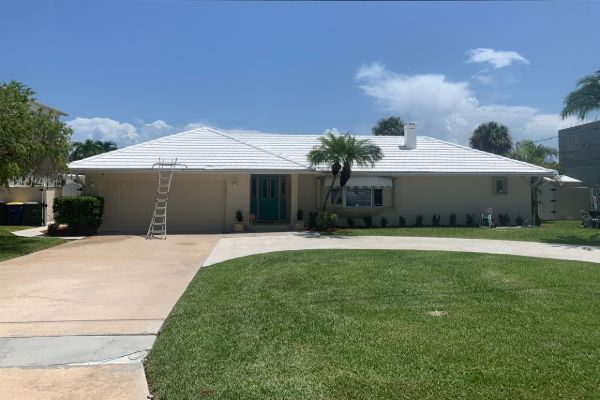 What Makes Us Different From Others
There are many reasons as to why it makes sense to choose us over others. To begin with, we believe in the best of customer satisfaction and this is something that sets us apart from the rest of the service companies. Further, we take care of the safety of the entire roof and also the inhabitants of the home when we are performing roof cleaning. We use high power cleaning devices with eco-friendly solutions and other such ingredients and equipment depending on your home's roof needs. We have a highly qualified, experienced, and skilled workforce that is capable of offering readymade as well as specially tailored and customized solutions. Our rates are also quite competitive but in our quest to be price-competitive, we have never believed in compromising on the quality of services that we offer to our clients.
Real Roof Cleaning Reviews
Roof Cleaning Indian River Estates FL
Castle Keepers arrived at the appointed time & immediately began work on a very dirty roof. They worked non stop until the project was completed & they were satisfied, as was I with the roof cleaning project. My roof now looks like new & I again feel pride in the way my home looks. If you want a job well done at a fair price call Castle Keepers.
Roof Cleaning Indian River Estates FL
I wish I took before and after pictures of the house. I had Joe clean our tile roof which usually needs to be done every 2-3 yrs. What a difference! We had the house washed with the intention of painting. Looking at the house now I'm wondering if it even needs to be painted.
Would I recommend Castle Keeper's Maintenance for roof cleaning? In a heartbeat.
Roof Cleaning Indian River Estates FL
Getting a quote and on their schedule was very low stress. They showed up exactly when the appointment was scheduled. Very upbeat, professional and hard working. Cleaned our entire tile roof and gutters then power washed the house. Very careful to keep pool area clean. We have NO complaints and will absolutely use Castle Keeper's in the future roof cleaning.
Results You Can Count On!
Do You Want Your Roof
To look New Again!?