Roof Cleaning in Vero Beach FL
The Top-Rated Roof Cleaning in Vero Beach FL
Over 300+ Five Star Reviews On Google & Facebook!
Experience Premium Roof Cleaning in Vero Beach FL
We take this opportunity to inform our valued customers in Vero Beach FL that our proficiency in roof washing is second to none. This makes us an incomparable service provider in roof cleaning in the area and the broader Florida region. Additionally, we have state-of-the-art equipment and a dedicated team in place to ensure meticulous roof washing for your home or business.
Castle Keepers Maintenance offers services in Port Saint Lucie FL, Vero Beach FL, Fort Pierce FL, Sebastian FL, Stuart FL, and other surrounding areas in Florida.
Five-Star Roof Cleaning Services in
Vero Beach FL
Choose the Most Experienced Roof Cleaning in Vero Beach FL
We would like to inform our customers that we have rich experience and expertise in the area of roof washing. This goes a long way in making us a much better service provider when compared to other Roof Cleaning in Port Saint Lucie FL, and surrounding areas of Florida. We also have the right equipment, infrastructure and manpower to do a thorough job of roof washing services for your home or business.
Other services we offer with benefits include Pressure Washing, Power Washing, House Washing, Window Cleaning, and Gutter Cleaning.
Our Vero Beach FL Roof Cleaning Services Come with Added Benefits
In Vero Beach FL, we stand ready to provide unparalleled Roof Cleaning services that rejuvenate your home's roof. Our unique soft-washing and pressure-washing methods ensure every speck of dust, debris, and microorganisms like algae are completely removed. Our clients are consistently pleased and often expand their service requests to include additional pressure-washing solutions. Our meticulous planning takes into account every relevant factor, from the size and height of the roof to the materials used. We offer more than just routine roof washing; you can rely on us for an entirely superior roof cleaning experience.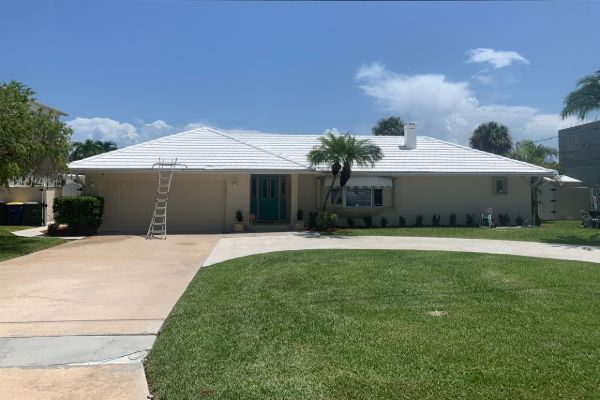 Unique Aspects of Our Roof Cleaning in Vero Beach FL
In Vero Beach FL, we're committed to not just meeting but exceeding your expectations. One of the ways we do this is by placing a strong emphasis on customer satisfaction. When it comes to roof cleaning, we prioritize the safety of the structure as well as the well-being of its inhabitants. Utilizing advanced, eco-conscious cleaning methods, we customize each service to your roof's specific needs. Our highly skilled workforce is versatile, capable of delivering both standard and uniquely tailored solutions. We never compromise on delivering top-quality service.
Real Customer Reviews for Roof Cleaning in Vero Beach FL
Roof Cleaning in Vero Beach FL
Castle Keepers arrived at the appointed time & immediately began work on a very dirty roof. They worked non stop until the project was completed & they were satisfied, as was I with the roof cleaning project. My roof now looks like new & I again feel pride in the way my home looks. If you want a job well done at a fair price call Castle Keepers.
Roof Cleaning in Vero Beach FL
I wish I took before and after pictures of the house. I had Joe clean our tile roof which usually needs to be done every 2-3 yrs. What a difference! We had the house washed with the intention of painting. Looking at the house now I'm wondering if it even needs to be painted.
Would I recommend Castle Keeper's Maintenance for roof cleaning? In a heartbeat.
Roof Cleaning in Vero Beach FL
Getting a quote and on their schedule was very low stress. They showed up exactly when the appointment was scheduled. Very upbeat, professional and hard working. Cleaned our entire tile roof and gutters then power washed the house. Very careful to keep pool area clean. We have NO complaints and will absolutely use Castle Keeper's in the future roof cleaning.
Results You Can Count On!
Do You Want Your Roof
To look New Again!?